Find out the Iskcon Temple Delhi opening time, closing time, details of nearest metro station, travel information and more.
Iskcon Temple New Delhi Details

Iskon Temple Delhi Nearest Metro Station

Nehru Place and Kailash Colony Metro Station

Open

04:30 AM (Mangal Aarti)

Close

09:00 PM (The main dwar of ISKCON Temple remains closed from 1pm to 4pm)

Entry Fee

Free Entry in Temple

Bus Route

Garhi Gaon, Garhi Village, and Garhi Lajpat Nagar

Location

Hare Krishna Hill, Sant Nagar, Main Road, East of Kailash, Sant Nagar, East of Kailash, New Delhi, Delhi, 110065, India.

Geographic coordinates

28°33′29″N 77°14′36″E

Official Website of Iskcon Temple Delhi 

www.iskcondelhi.com 
The above-given table contains a sneak peak of Iskcon temple Delhi metro station, timing and more. Below, we'll explore this information in detail.
Travel Information:

ISKCON temple in Delhi has various activities that keep on happening. From Harinam Sankirtan to Vedic Wisdom Lectures and Food for life.
How to reach Iskcon Temple Delhi?
One of the best ways to reach iskcon temple Delhi is via the metro route; however, it all depends where you are in Delhi right now. Apart from Delhi metro to reach iskon temple, you can use bus routes, auto, cab and personal vehicles to visit the temple by road. 
If you want to reach temple Delhi via the metro then the nearest metro station of Iskcon temple Delhi is Nehru Place and Kailash Colony Metro Station. Outside of metro stations, you will have to take auto rickshaws to reach the ISKCON temple in the most convenient way. If you want to go by walk you can, but you may be required to walk for 10 to 15 minutes continuously.
Note that, the ISKCON temple is located in the Capital city of India, New Delhi and so there are various transportation services you can take. If you are at Delhi airport then you have to travel for 17 Km to reach the ISKCON temple in Delhi. From Delhi railway station the Iskon temple distance is 13 km.
A Brief Intro To Iskcon Temple Delhi
The Iskcon temple Delhi location is on the top of the Green Hare Krishna Mandir or temple. It is also popularly known as the famous Vaishnav temple at New Delhi. In 1998 the Iskon temple was established by the International Society for Krishna Consciousness (ISKCON). It was founded by A. C. Bhaktivedanta Swami Prabhupada who was a Philosopher. 
The philosopher and founder of ISKCON, A. C. Bhaktivedanta Swami Prabhupada's samadhi is in the ISKCON temple's territory which is made by a white marble tomb that pays respect to his life and contributions.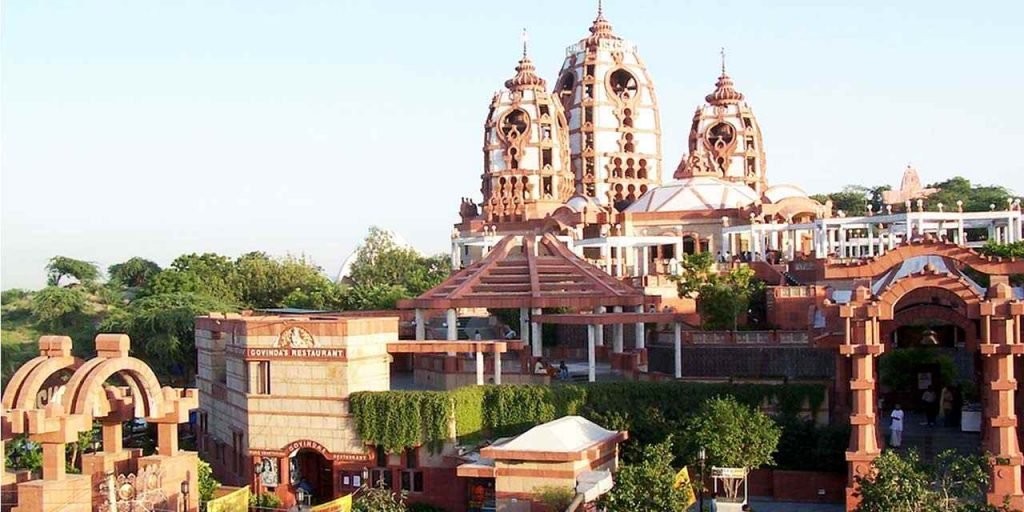 Objective of ISKCON Temple Delhi
Just like all the ISKCON Temples, the New Delhi Iskcon temple has an objective to spread the practice of Bhakti Yoga. Inside the Iskcon Temple in Delhi, the devotees dedicate their actions towards Lord Krishna. The Foundation of the Iskcon temple has a great impact on Vaishnavism origination.
The founder of ISKCON, Prabhupada wanted to construct Radhe-Krishna temples across Major cities of India. Therefore, the mission to establish the ISKCON temple across India started from 1995 to spread knowledge of Vedic culture so that a strong bond between people and Lord Krishna can be established.
Timing of Iskcon Temple Delhi
One can reach the Iskcon Temple in Delhi between 4:30 a.m. to 9:00 p.m. The temple is open for all seven days, but you won't be able to do the Krishna darshan from 1:00 p.m. to 4:00 p.m. as the main altar remains closed during this time period.
You can participate in Mangal Arti from 4:30 am daily. Mangal Arti is a ritual performed in the Iskcon temple in Delhi in the morning.
Here's the detailed schedule of Iskcon Temple Delhi. These timings are divided into days, pooja and their times.
| | | |
| --- | --- | --- |
| Days | Daily Aarti/Pooja | Temple Aarti/Pooja Timings |
| Monday to Sunday (All 7 Days) | Mangal Aarti | 04:30 AM |
| Monday to Sunday (All 7 Days) | Japa (Mantra) Meditation | 05:15 AM |
| Monday to Sunday (All 7 Days) | Darshan Arati | 07:15 AM |
| Monday to Sunday (All 7 Days) | Guru Puja | 07:30 AM |
| Monday to Sunday (All 7 Days) | Srimad Bhagavatam Discourse | 08:00 AM |
| Monday to Sunday (All 7 Days) | Raj Bhog Arati | 12:30 PM |
| Monday to Sunday (All 7 Days) | Usthapana Arati | 04:15 PM |
| Monday to Sunday (All 7 Days) | Sandhya Arati | 07:00 PM |
| Monday to Sunday (All 7 Days) | Bhagavad Gita Discourse | 08:00 PM |
| Monday to Sunday (All 7 Days) | Sayana Arati | 08:30 PM |
| Monday to Sunday (All 7 Days) | Temple Hall Closes | 09:00 PM |